When it comes to Colin Kaepernick, LeBron James, and the protests against police violence that have been spreading across the NFL, the NBA and other leagues, the people fighting them tend to forget one thing when they say that athletes should "stick to sports" and not express any political messages. Athletes in the U.S. have never "stuck to sports." Athletes, like artists, have often found themselves with some of the largest platforms to impact hearts and minds and have done just that. Muhammad Ali, one of the greatest boxers of all time, lost his boxing license in 1967 because he objected to fighting in the Vietnam War on religious and political grounds. 
Muhammad Ali literally sacrificed his livelihood to speak out against injustice. Most people recognize the image of Tommie Smith and John Carlos at the 1968 Summer Olympics. With their black-gloved fists raised, they made a powerful statement about institutionalized racism in the United States that still resonates today. Colin Kaepernick's choice to protest by taking a knee during the National Anthem is following in this great tradition.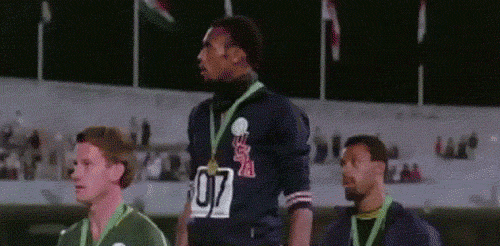 One thing conservatives continually get wrong is the idea that protesting the anthem or flag means the protestors hate America. This couldn't be further from the truth. And the people who say this know it. They are derailing the conversation. What protestors actually hate is racism. They hate violence. They know that state-sanctioned, race-driven violence and disenfranchisement goes directly against the words of the Constitution and the Declaration of Independence, the founding documents of the United States of America. The second paragraph of the Declaration of Independence states:
We hold these truths to be self-evident, that all men are created equal, that they are endowed by their Creator with certain unalienable Rights, that among these are Life, Liberty and the Pursuit of Happiness.
So the men and women who are protesting? Who are kneeling during the anthem? They are expressing amazing optimism. They love the ideals that this country is based on, and they believe they might be possible to attain. People like Colin Kaepernick and LeBron James love the United States and what it stands for so much that they are willing to risk their livelihoods to uphold the professed values of this great nation. That's what these protests are about. Racists want to deny this. They want these words to be just lip service. This is why they are so angry about the protests and why they are trying to squash them. They want the democratic ideals of the United States to only apply to a small subsection of rich white people.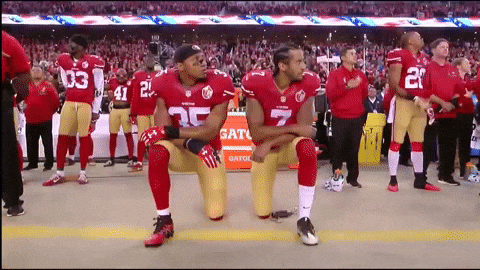 Sports are an American tradition, they are a part of our national fabric. So it makes perfect sense that athletes would have a strong sense of patriotism and the courage to use their platforms to stand up for justice, even when it's hard.